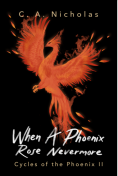 LitPick Review

Rising like a phoenix out of adversity is the hope of Dahlia, an artistic college student who struggles with negative self-doubt and suicidal ideation. The book follows her through some of the more transformational moments in her young adult life, as well as through the viewpoint of family members closest to her. Dahlia struggles with letting her therapist and others into her thoughts, memories, and negative self-doubt. Throughout Dahlia's young adult to adult experiences, she finds comfort in writing, much like the author of this book, C.A. Nicholas. A unique perspective is contained in the middle section of this novel as it is all from the viewpoint of reading Dahlia's literary works as though we are seeing into her soul through her writing. This style offers a different take on understanding the main character's internal realities, both positive and negative, that are shaping her reactions to her life. The multiple writing styles in the book ultimately lead the reader to a broader view of the inner world of the characters instead of the reader learning about the characters through dialogue between characters in the story plot. There is a theme the author hopes to bring out in this work, which is, "You are wonderful because you exist."
Opinion:
The multiple approaches in style to build this story, such as reading the main character's literary works, basically like a writing diary, were equal parts interesting in building the characters as well as at times distracting from continuing the storyline. The reader may feel confused by the literary works section in the middle of the book. This book contains some positive principles to deal with suicidal ideation, which make it a book for mature adult audiences such as college students who could relate to Dahlia's experiences. Sexual identity, such as same sex attraction, is also discussed and sexual encounters are described in depth, which definitely makes this a book recommended only for the mature reader who is not offended by such content.
Explain your content rating:
This book brings up agnostic to atheist religious beliefs and contains letters between the main character and a pastor as well as arguments with parents. It also contains mature themes surrounding sex, sexual identity, suicide, same-sex attraction, and death.
KEYWORDS
CHARACTERISTICS AND EMOTIONS: