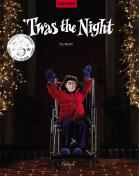 LitPick Review

This story is an illustrations-only picture book about a boy in a wheelchair who rescues an injured bird around Christmas time and nurses him back to health. While the disabled boy heals his injuries, a connection blossoms between the bird and the boy. The setting is at night. To bring about the magic of Christmas, the boy and the bird experience a Peter Pan moment while flying in the night sky the same night as Santa Claus. A beloved "tale" to warm the heart regardless of age or language.
Opinion:
This is a unique story for kids to indulge in imagination, especially for a writing exercise. The book is illustrations only, so children are able to come up with their own dialogue. The book is unique and the story is heart-warming, but I prefer a book with words. However, this is strictly my preference. The book presents a heart-touching tale of two souls who connect around Christmas. Each picture gives enough detail for readers to understand what is happening or to create their own version. This is a great book to help with creativity. The story starts off a bit sad, but children will be smiling once they reach the end of the book. The mood, although dark, is set with love. A dream-like feel with magic.
Explain your content rating:
Nothing offensive, but there is a small smear of blood from the wounded bird. I do not find this offensive, but others may have a different opinion.
KEYWORDS
CHARACTERISTICS AND EMOTIONS: