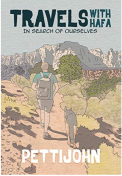 LitPick Review

In his memoir, Travels with Hafa: In Search of Ourselves, author Nathan Pettijohn recounts an RV trip that he had taken with his German Shepherd, Hafa, in the fall of 2019 after a hard-hitting breakup. With his only expectation of the trip to escape and to reflect, Pettijohn sets the tone for a relaxed trip that begins in California and circles around the Pacific Northwest in under a month.
He begins the trip with his brother, Aaron, who rides along for the first few days before flying home. He also makes stops to visit friends who join him for a day or an overnight visit. Also, a young college student named Ty, joins him on a whim for the middle part of the trip. Hafa, though, is by his side the whole way.
The two visit numerous national parks and trails, sample hamburgers from greasy diners and bars, and most importantly, explore a world much different and larger than the bustling metropolis of Los Angeles. Like most vacations, the trip doesn't change the author's life as much as it gives him an incentive to make room for the next adventure separate from his daily life.
Opinion:
Travels with Hafa was a real page-turner in its interesting concept and how clearly it was told. The reader is on Pettijohn's shoulder throughout the whole trip as he recounts it city by city and stop by stop.
His narration paints a clear picture of the atmosphere without getting weighed down in incidentals or over-explanations. It's interesting to learn about how to travel in an RV and how populated the trails and campgrounds were in these seemingly secluded areas. Pettijohn has difficulty finding places for Hafa to run off leash or even to let him out of the RV for bathroom breaks or exploring certain areas.
Though the trip is meant as an escape, he's vague regarding the behaviors and history that inspired this trip. When he sidetracks, it's usually to talk about larger issues, such as our reliance on technology, the preservation of our land, or even incidental notes such as short little movie reviews about the films that he watched in the RV each night. But he never goes off on tangents and essentially keeps the story on track. The result is a well-told, fast-paced and solid travel memoir that I recommend to travel-enthusiasts, dog lovers, and those looking for inspiration for their next road trip.
Explain your content rating:
There is some adult language, mature situations, and one somewhat graphic story that is told by a friend.
KEYWORDS
CHARACTERISTICS AND EMOTIONS:
ACTIVITIES, HOBBIES, PLACES, AND EVENTS: