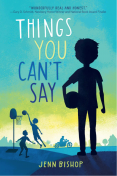 LitPick Review

Age at time of review - 33
Reviewer's Location -
Corning,
NY,
United States
View JT's profile
Things You Can't Say by Jenn Bishop is a story about a twelve-year old boy named Drew whose father committed suicide when he was nine. It is clear from the beginning that Drew is a kind and thoughtful soul. He feels compelled to accept mature responsibilities around the house, such as preparing dinner, taking care of his six and three-quarters-year old brother and watering the lawn. But like most young people, he keeps his feelings inside. Drew is also learning how to navigate friendships, such as his relationships with his mom, best friend, Felipe, and a new friend, Audrey. Then, an old friend of his mother's comes to visit while motorcycling across country. Drew's feelings about Phil certainly create conflict in his heart. Should he allow this new person into his life even though he has not accepted his father's suicide? Can he reveal his secrets about his father's death to his new friend, Audrey? The answers to these questions lie in the story, Things You Can't Say.
Opinion:
You do not have to know of a family member's death by suicide to relate to this story. This is a story about coming-of-age and how important it is for young people to talk to trusted adults about their feelings. Hopefully, you, the reader, have a family member or teacher, librarian, or coach with whom you can confide, especially during teenage years. That is why this story is so relatable. Drew learns to open his heart to new friends and old, but only after he experiences valuable lessons along the way.
I would recommend this book to 9-12 year olds who like to read books with characters who develop positive relationships and who like books with heart. This story will leave you feeling like the sun has come out after a cloudy day.
Explain your content rating:
There is nothing offensive in the story and is appropriate for intermediate students to read.
KEYWORDS
CHARACTERISTICS AND EMOTIONS: