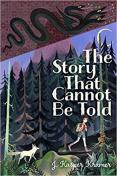 Genre -
Historical Fiction
LitPick Review

In The Story that Cannot Be Told, main character Ilena collects stories of all kinds and revises the endings to her liking. She writes down all of the stories in a book she calls The Great Tome. Ilena and her family try to have a good life, despite Romania's corrupt leader. When Ilena's uncle writes a story criticizing the communist government, the secret police come after Ilena and her family. Ilena's parents make the difficult decision to send Ilena to stay with her grandparents. Ilena doesn't want to go live with the grandparents she has never met. She wants to stay with her mother and father. But danger is never far away from Ilena, and eventually Ilena will have to save the village she's come to love.
Opinion:
The Story that Cannot Be Told is an amazing book that uncovers a part of history I had never heard about before. This book is a great mix of realistic fiction and fantasy. The characters are very well developed, and the reader can feel their pains and struggles. One scenario in which I really could relate to the characters' struggles is when Ilena finds her uncle but can't figure out how to help him. The reason I don't give this book five stars is that I feel some parts of the book could be more detailed. For instance, in the climax of the book I had a hard time fully understanding what was happening. I think this is because it goes by much too quickly, and I would have preferred that the story's climax be more stretched out. All in all, however, this tale of Ileana battling monsters—both real and imagined—is a breathtakingly beautiful book.
Explain your content rating:
The age rating of 8 to 12 is very appropriate for this book.
KEYWORDS
CHARACTERISTICS AND EMOTIONS: