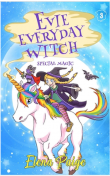 LitPick Review

In her past adventures, Evie the Everyday Witch has only succeeded with the help of her friends. She is convinced that everyone thinks she is actually bad at being a witch! That is why Evie is so determined to prove herself as the most clever witch around in Special Magic, the third book in the Evie The Everyday Witch Series by Elena Paige. When magical creatures inexplicably begin to wreak havoc in her town, Evie is determined to save the day completely on her own and forbids her friends - human, witch, and magical pets - to help. But as circumstances become more complicated, Evie soon finds herself in more trouble than she bargained for and is forced to decide between letting her friends help her or using Special Magic. Will she be able to defeat whoever is causing all the trouble in her town by herself or will she learn to accept her friends' help once again?
Opinion:
Special Magic, the third book in the Evie The Everyday Witch Series by Elena Paige, was a fantastical, quirky, and fast paced book. I would highly recommend reading the first and second books in the series before this one to better connect with Evie and her many friends through their backstories, relationships, and adventures. One thing I love about this book is the way the author wove important life lessons all throughout the plot. While Evie's bright and quirky friends teach readers the importance of letting true personality shine, Evie learns through her adventure that friendship and cooperation can be more important than individual heroism. Unlike other fairy tales which commonly feature witches as the antagonists, this book is unique in that witches are portrayed as the "good guys" and get the chance to fight evil. In addition to the exciting storyline, several cute cartoons really help to bring this book to life. I recommend this book to fantasy lovers ages 7-13.
Explain your content rating:
This book contains no mature, religious, or inappropriate content. I would recommend this book to young readers ages 7-13.
KEYWORDS
CHARACTERISTICS AND EMOTIONS: