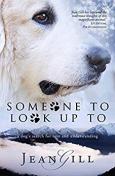 LitPick Review

Sirius de Soum de Gaia was born, along with two sisters and four brothers, to two of the best show dogs in history and has always been told to keep his head high, regardless of anything that might happen. It is quite hard for Sirius to do that when his master gives him to a family that doesn't want him and brings him to an S.P.A. refuge.
After several weeks at the refuge, Sirius' brother, Stratos, comes; Sirius is overjoyed. Unfortunately, just a few weeks later, Stratos is put down, and Sirius is sent back to live with his breeder. Sirius thinks that this life is better than being in the S.P.A., even though Sirius is kept away from all living things except for cats and chickens. Sirius is content until he hears the news that HE is going to be put down. Will he survive? And if he does, will he ever be happy again?
Opinion:
Someone to Look Up To is a very moving book about the trials of puppyhood. It has excellent imagery such as "skies so blue they dazzle, snow so white the glitter bursts against your closed eyelids, mountains dancing in the winter sunshine, dancing all the year round." You are invited into Sirius's world as Jean Gill describes the vivid feeling of the first bite and many other moments. If you're looking for a great book about animals, you have found it! Enjoy!
Explain your content rating:
KEYWORDS
CHARACTERISTICS AND EMOTIONS:
ACTIVITIES, HOBBIES, PLACES, AND EVENTS: