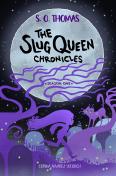 LitPick Review

WATCH THE LITPICK ANIMATED REVIEW VIDEO!

The Slug Queen Chronicles is a book about a girl named Cricket. She gets a gift from her father: her deceased mother's journal. It describes a mysterious land of boogies, night terrors, hobgobs, gibber snatch, and the Santa. Cricket and her friend, Penny, try to set a trap for a gibber snatch. They wake up in the night and hear a thump in Cricket's brother Tristan's room. They sneak in, and they see him in his crib. All appears normal, except that there is a gibber snatch over his bed. It disappears, and Tristan screams black dust. Penny and Cricket wonder if the dust is a clue. In the morning, Janice (her stepmother) has black tears on her face and yells at Cricket to go to the bathroom. Janice goes crazy, and so does Cricket's dad. Cricket puts a mask and gloves on Penny to keep her safe as they investigate the dust. Penny comes back after lunch, and suddenly she acts strange. She calls Cricket's journal stupid and says her mom was crazy. What went wrong with Penny? Why are Cricket's parents acting strange? And most importantly, why is the black dust everywhere? Read the book to find out!
Opinion:
The Slug Queen Chronicles is a suspenseful book that keeps you reading. You can't put it down! There are so many things going on, and you won't be able to stop reading until you finish! I thought this book was awesome; it's now one of my favorites. It actually scared me when Cricket was scared, and I felt like I was her. The author was very descriptive, and I hope there are more books coming! This book is a bit scary, so I would recommend it to 10-12-year-olds who can handle a little violence because there is some throughout the book. If you like fantasy books, you'll love The Slug Queen Chronicles.
KEYWORDS
ACTIVITIES, HOBBIES, PLACES, AND EVENTS: