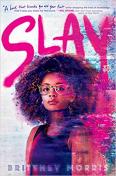 LitPick Review

Kiera Johnson, a 17-year-old student at Jefferson Academy, is one of the few black kids at the school. Every day after school, she joins thousands of black gamers and plays Slay, where participants battle other gamers in a card game about black history. Kiera is the game creator and developer known as Emerald in the game, but no one can know that she is the developer--not her family or even her boyfriend, Malcolm.
One day, Kiera sees that a boy has been murdered because of a falling out with another gamer over the coins in the game. Kiera's world then turns upside down when everyone urges Emerald to reveal herself. An intruder in the game threatens to sue Slay because he thinks it's a racist game against white people. The news channels think the game is also racist and that Emerald should expose her true identity. What will Kiera do? Will she get sued, and will the game end? Will they figure out who Emerald is?
Opinion:
Since I am not that interested in video games, I had a hard time connecting to the events depicted in Slay, but as the story progressed, I could not stop reading. One reason my interests became piqued was that the game that was created in the story was really unique and unlike any other game I am familiar with, which I liked. Also, there were many allusions to Elie Wiesel, which made the book even more enjoyable since I knew the relevancy based on a familiar quote, movie, or book, and this caused me to see how the situation was related. I also like the relationship between Kiera and her sister, Steph, and how they built each other up in difficult situations and supported each other when they needed it most. This was not quite a five-star read, but it is definitely one of my favorite books, and I will endlessly recommend Slay to multiple friends and family. Overall, I would say this book was amazing and rate it 4 of 5 stars. I would recommend this book to ages 13 and up.
Explain your content rating:
Some violence, some talk about sensuality, and some language.
KEYWORDS
CHARACTERISTICS AND EMOTIONS:
ACTIVITIES, HOBBIES, PLACES, AND EVENTS: