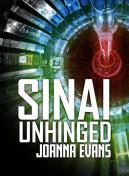 LitPick Review

"Watch out. It's coming."
Alex doesn't believe her psychiatric patient's chilling words to be more than a mental breakdown from his stressful job as a physicist at the Complex. Until she learns there's a lot more going on than just this one patient…like the one before who suddenly died of cardiac arrest, or the weird connection to her missing father, or her friend's involvement in the experiment going so horribly wrong!
At the Complex, Carl and Valerie have been working on a project called the Destabilizer. (The same project that Alex's two patients were working on before they mysteriously sunk into madness and then death!) Both Carl and Valerie know there is something wrong with the Destabilizer, but the Voice is keeping the Complex afloat with payments and exclusive access to its use, so they must continue...until it becomes very evident that something is very off about Carl.
With her friend's life on the line, Alex enters the Complex alongside Valerie in a last-ditch effort to discover what her father knew about this project and how they can possibly stop it. However, unbeknownst to Alex and Valerie, the Voice has deadly allies who have their own connections to the Complex, the Destabilizer, and them.
Will Alex be able to finally understand the science behind her father's madness? Will it be enough to save her friend? And more importantly, can she stop the Destabilizer before it is too late?
Opinion:
Sinai Unhinged is an interesting twisting of several different genres into one story: fiction, science/technology fiction, thriller, and religion. I liked it because there wasn't an overwhelming feeling of any one of the genres but sort of a good blend of each one, allowing the reader a glimpse into each but not overpowering the others. I also liked how this story unfolded through several different points of view. It included Alex, Valerie, and Carl (obviously), but viewpoints of Valerie, Lena (Carl's girlfriend), the Voice, the Voice's evil assistant, and the manager of the complex all gave different insights into what was occurring and why. Instead of having to discover key elements through the main character "discovering lost information, etc.," the reader was privy to the inner thoughts of each character. This gave a darker, and sometimes creep-tactic, element to the story.
I would recommend this novel to readers 17 and up. There are some creepy and dark implications of humanity throughout the novel that are not appropriate for a younger audience. I think anyone who is interested in a good mystery/thriller with a sci-fi type feel would enjoy this read!
Explain your content rating:
details one character's dark obsession with another (with some disturbing mental images) and mentions several different implications of human evil (murder, abuse, etc)
KEYWORDS
ACTIVITIES, HOBBIES, PLACES, AND EVENTS: