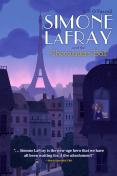 LitPick Review

When her mother, who is a secret spy, is on a mission, Simone LaFray has a mission herself. Living in Paris, this twelve-year-old girl also helps her dad, who owns a patisserie, make the delicious pastries. When someone steals their sacred recipes that have been passed down from generation to generation, Simone tries to figure out the identity of the culprit. Simone and her father enter the famous Chocolatiers' Ball intending to clear their name and catch the thief. Will they win the Chocolatiers' Ball, find the thief, and restore their name?
Opinion:
Simone LaFray and the Chocolatier's Ball is a mysterious book because Simone tries to figure out who the thief is. It took me exactly a week to finish this book, and it was a little hard to get into, but the last 50 pages were very interesting since it is a mystery. I've never read a book about a patisserie. It was very interesting to read about the process of a patisserie and the different types of pastries. Simone was a fascinating character because she loved to read, and I can relate because so do I. I would recommend this book to ages 7 and up.
Explain your content rating:
There is nothing offensive or inappropriate in this book.
KEYWORDS
CHARACTERISTICS AND EMOTIONS:
ACTIVITIES, HOBBIES, PLACES, AND EVENTS: