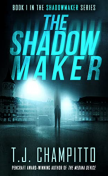 LitPick Review

The Shadowmaker by T.J Champitto, which is the book one in The Shadowmaker Series was wonderful and a perfect book for crime or adventure genre fans.
Professional art and jewel thief, Henry Sirola, thought he was living his best life working with his best friend Darius Martovic under Anton Krunoslav, the owner of the Ružaro clan. Unbeknownst to everyone, Henry is a double agent for the FBI. Darius informs him about an undercover operation that Anton is on that would yield more money than they have ever made but keeps him in the dark about the full details of the operation. Meanwhile, the FBI has tightened its watch over Henry, Darius, and Anton after teaming up with NSA agent Jonathan Harwick and DCIS agent Antonio Garza on Operation Evergreen. It was then revealed by Harwick that Anton had met and exchanged envelopes with Arthur Neilson, an entrepreneur who was involved with illegal oceanic mining and leased his research vessel for a secret operation. Harwick and Garza believe that Anton wants to recover either a historic ship or a nuclear warhead from the ocean after sending down submersibles to check it out.
However, Henry learns that Darius is keeping something vital about the undercover operation from Miles Brennan, an FBI agent who is also involved in Operation Evergreen and has been exchanging information with Henry for the past four years. Darius informs Henry that the first phase in the undercover operation is for him to go to Sorrento, Italy with his ex-girlfriend Isabell to deliver a capsule, but things do not go as planned. Operation Evergreen is also in chaos as the agents involved discover that Anton carried out his undercover operation and recovered an asset that is neither a historic ship nor nuclear warhead. Unfortunately, the asset was tampered with and fell into the hands of a rival criminal clan. Darius is then forced to tell Henry about the details of the undercover operation and prompts him to help recover the asset from a rival criminal clan. The recovery operation of the asset is successful and the details of the operation reported to Anton who praises them and promises great rewards.
However, after the murder of his best friend Darius Martović, he discovers that there is a bigger conspiracy going on, and suddenly, everyone is a suspect. Meanwhile, during a meeting involving the members of Operation Evergreen, Agent Miles is forced by Agent Harwick to confess the name of his informant who he calls "The Shadowmaker." Miles lies and says Darius was his informant to protect Henry from power-driven officials. Henry is put in a tight place as he works together with Isabell to decipher the hints his best friend left him while working as newly promoted captain under Anton. He is in a rage when he finally discovers what Darius was trying to tell him about Anton and decides to go ahead with what Darius had in mind for the crime clans, but does he have enough evidence to pull this off?
Opinion:
The Shadowmaker was quite an interesting read and is unlike any book I have ever read. The novel was mostly about a world of crime, betrayal, and secrets but still managed to squeeze in love in the purest form. It is uniquely written and composed in a manner that even the most unimaginative person would unconsciously be thrown into the scene. The novel held a comfortable mood for most of the chapters, but T.J Champitto sparked a suspense mood towards the end of the novel that will make you want to follow up the series. I was impressed by how realistic the events that occurred in the book felt.
I adore the protagonist, Henry Sirola, because he was written not as a superhuman criminal who leaves a dangerous spot without a scratch but as a realist-trained criminal who could be scared for his life and did not always make the best decisions. The author's writing style was detailed enough to picture, but it still left enough space for imagination beyond what was written. The novel may also be the next hot crime-adventure series because of how realistic the events were written.
Champitto achieved his purpose in the novel because after reading the book, I realized that Henry was a shadowmaker because he was an expert at exchanging information with the FBI, working in one of the biggest crime clans, and trying to understand the secrets left by Darius without anyone catching him at it until later. He also left the ending of the novel as a cliffhanger, which I would say worked wonders because I am currently looking forward the next book in the series.
However, the book's weakness lies in the fact that it was not exactly meant to be classified as a thriller genre because there was hardly any suspense in each chapter. Nevertheless, it is highly recommended to adventure and crime genre fans from age 13+ because I am very sure they will find it more interesting than thriller fans. I learnt a big lesson from the protagonist and that is how to take food from the fridge at night, put one of my sister's clothes on for an outing, and inform my elder brother in another state about the latest events in the house without anyone catching me at it until later. In case you did not understand what I learnt, I meant I learned how to be a shadow. The Shadowmaker Series' first book has a rating of 4 out of 5.
Explain your content rating:
There is slight violence in the book.