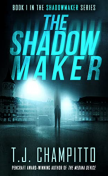 World-renowned thief, Henry Sirola, has a secret. He's also an FBI informant.

When he's given a new assignment by the Croatian mob to retrieve a priceless artifact, he knows it could be the biggest score of his life, but he needs to keep his two worlds from colliding. Henry and his associates embark on a mission that takes them to Brazil and home again where an assassin strikes at the heart of their crew.

Now, hunting down a cold-blooded killer, Henry embarks on an international quest for the truth through the foothills of the Appalachian Mountains to the cafes and castles of Italy to the back alleys of Zürich. His battle for survival uncovers his troubled past and takes him through the dark underworld of organized crime into a pursuit of self-discovery as the battle between good and evil turns personal.