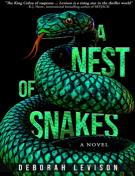 In A NEST OF SNAKES, Brendan Cortland is a broken man. Middle-aged, pasty, pudgy, and fearful, he suffers from chronic depression, nightmares, and agoraphobia. His contact with the outside world is limited to trolling chatrooms, where he hunts pedophiles, and a weekly session with his psychiatrist, to whom he describes dreams of being devoured by predators. The doctor suspects catastrophic abuse, and maybe something more; but in all his years of therapy Brendan never divulged the deepest source of his trauma.

Pushed to his breaking point, Brendan embarks on a quest for justice. It's the terrifying step he's avoided for decades: going public with his story. His lawyer warns him that testifying might mean dredging up painful memories, ones he'd rather keep buried.

Still, no one is prepared for the horrible secrets and revelations that emerge during the trial … least of all Brendan himself.