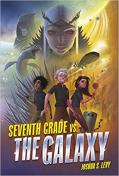 LitPick Review

Aboard the PSS 118--a school that is in orbit around Ganymede, which is one of Jupiter's moons, the reader follows a boy named Jack Graham as he journies around the solar system. Jack's father recently got fired from his teaching job on the ship because he was secretly working on the ship's engine. One day, Jack gets a message from his dad to meet him at the engine room, but when Jack, his best friend-Ari, and a girl in their class who wanted to tag along arrive, Jack's dad was not there. They realize that he was working on a light-speed engine! Everything gets very weird from there and their whole ship is captured by aliens and taken to the alien's planet. Jack and his friends are trying to free everyone from the clutches of these aliens, and they go on many adventures to try and free their school. Will Jack and his friends save everyone, or will they be stuck on the alien planet forever?
Opinion:
Seventh Grade Vs. The Galaxy was a funny, adventurous science-fiction novel that for the most part keeps the reader engaged. The first half of the book was not very engaging because the plot was quite slow, but the second half was more interesting, and the book turned into a real page-turner. This book slightly reminded me of A Wrinkle in Time in many different instances because of the sci-fi aspect and the alien planet that had many different species. I loved A Wrinkle in Time and the comparison between the two caused me to like it even more. The characters were hilarious, but the main character Jack came off as selfish and a horrible friend to Ari, which I did not like and made the story less enjoyable. Younger children might enjoy this book more than I did so I would recommend ages 9-12 to read this book.
Explain your content rating:
There is nothing offensive in this book.
KEYWORDS
CHARACTERISTICS AND EMOTIONS:
ACTIVITIES, HOBBIES, PLACES, AND EVENTS: