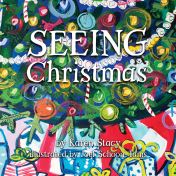 LitPick Review

Seeing Christmas is a heartwarming poem about the real meaning behind Christmas. The author takes you around the living room of a Christmas morning to explore the tree, the gifts, the people, and the food that are beautifully depicted in the unique illustrations throughout the book. Once the author touches on every element of Christmas, they begin to uncover what they find as the meaning behind the holiday. Seeing Christmas will spark holiday spirit and envelop readers into a warm and fuzzy hug of Christmas tradition and meaning.
Opinion:
Seeing Christmas incorporates various aspects into its story that enhance this poem into a perfect book for the holiday season. The poem is chockful of precious rhyme and vivid vocabulary that sparks imagination and learning and contributes to the religious theme. While there aren't necessarily characters present in the book, the author touches on elements of the Christmas holiday that come to life on each page. Readers can fully embrace the parts they love about the holiday through the cozy setting in a decorated home. The author also incorporates life-like illustrations into the book that readers will want to touch on each page. They jump across each page and invite readers to explore the hidden details of each brush stroke.
Explain your content rating:
This book is religious, and readers/parents should be aware of this before reading.
KEYWORDS
CHARACTERISTICS AND EMOTIONS: