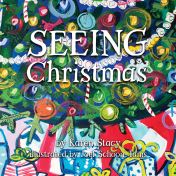 Worried your kiddos will focus on holiday happenings instead of Jesus? Help them learn how every aspect of the season celebrates God's eternal gift.

Want to guide little ones to the true meaning of December 25th? Wondering if you have the wrong perspective on the tree, lights, and toys? Hoping to rediscover the magic of the most wonderful time of the year? A wife, mother, and grandmother who's been walking with the Lord for over four decades, Karen Stacy loves finding Him in life's everyday details. And now she's here to share this sweet reminder of how each tiny piece of those winter festivities points the way back to the Son.

In SEEING Christmas, you'll discover:

- Vivid and bold illustrations that hide a delightful end-of-story secret

- Easy-to-read rhymes that will have kids snuggling in and listening up

- The holy significance behind those holiday traditions so that you can celebrate with a light heart

- Unique insights into sometimes-hectic events to help everyone slow down and relax

- An encouraging sense of community, inspiring lessons, and much, much more!

SEEING Christmas is an immersive, inspirational children's picture book. If you or your child like festive customs, spotting hidden clues, and learning fun facts, then you'll love Karen Stacy's joyous celebration.