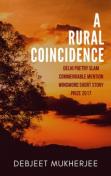 LitPick Review

Gambling, drug addiction, and poor crops are just some of the things that plague the life of Sunderlal, a farmer in rural Bengal India. Sunderlal is the main character of A Rural Coincidence, a short story by Debjeet Mukherjee. Focusing on his impoverished state and the fact that he can't fund his teenage daughters' education makes life so unbearable that Sunderlal decides to commit suicide despite the blessings in his life such as his family. Luckily, when the village postman happens upon Sunderlal attempting suicide, he recognizes him immediately due to the intimacy of the village and is able to stop him from executing the fatal act. Will Sunderlal be able to turn his life around? Will he be able to get his daughters the education he dreams of for them?
Opinion:
A Rural Coincidence, a short story by Debjeet Mukherjee, is packed with ironic twists and turns that will leave the reader thinking about the story long after they finish reading. The story pulls the reader in from the very first sentence, as it's most suspenseful moments are packed into it's beginning pages. However, the second half of the story is by no means dull - instead, it keeps the reader engaged until the very end, looking for explanations of and resolutions to Sunderlal's attempted suicide. This story contained very few characters, but I really enjoyed how the author made sure that every one of them had a backstory, some more intricate than others, that really helped me feel for them. Another thing that I loved about this short story was the author's use of imagery and his vivid descriptions of the characters' surroundings. This story certainly lives up to its title; in just ten pages, the author explores both the blessings and hardships of small village life and includes many coincidences that make up the foundation of the storyline. For example, both the heart of Sunderlal's financial problems and the way in which he was saved from suicide were a result of a coincidence (someone happening to be at a very specific place at either the right, or the wrong time). I enjoyed the way the author subtly provokes the reader into pondering issues such as: how easy it is to dwell on the negative and lose focus on the good things in life, how things aren't always the way they appear on the surface, and how small choices and coincidences can lead to life changing impacts - both good and bad. I would recommend this short story to readers ages 15 and up interested in a thought-provoking read.
Explain your content rating:
This short story contains some mature topics (suicide and addiction) in a non-offensive and somewhat subtle way.
KEYWORDS
CHARACTERISTICS AND EMOTIONS: