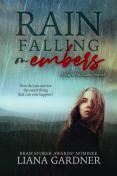 LitPick Review

Rain Falling on Embers by Liana Gardner is a marvelous YA novel that follows Katie McCabe, a thirteen-year-old struggling against a turbulent life. Katie's world turns upside down as her ailing father sends her away to live with her uncle, a place where she feels she does not belong. The agony of leaving her home behind along with the constant pressure of living up to her family's reputation continue to tear her down, and the eventual death of her father only makes things worse. Along the way she develops enmity with Denton, a notorious bully, and it soon takes a dangerous turn. With constant trouble and occasional glimpses of hope and love, she has to find a way to survive and rise.
Opinion:
The very first thing that any reader is bound to notice about the book is its unique and beautiful title which gives a hint regarding what they are signing up for. The story has been narrated from the first person's point of view, making it easier for the readers to closely follow the protagonist's emotions; it is undoubtedly a clever technique as the turmoil inside Katie remains central to the book. I feel that the author has done a good job in portraying Katie as a thirteen-year-old with certain traits including intense emotions, interest in boys and so on, making her a relatable character to anyone who is currently in or has recently gone through this phase of life.
One of the sides of the book that have appealed the most to me is the symbolism of Rupert, Katie's beloved teddy bear that also happens to be the last present from her deceased mother. I have initially interpreted it as the symbol of the lingering innocence of her childhood. While this interpretation still stands, I think that the incident with the baby bear toward the end of the story also makes it a symbol of her mother's inextinguishable love and protection.
The most important message that the book conveys is that every kid deserves to be surrounded by the love and support of their family; without the much-needed warmth of the nearest ones, it is hardly ever possible to calm the storm that goes on inside one going through a difficult time.
It is no doubt a great pick for anyone above the age of thirteen.
Explain your content rating:
Contains references to smoking and drinking. Also contains mild indications of sexuality.
KEYWORDS
CHARACTERISTICS AND EMOTIONS:
ACTIVITIES, HOBBIES, PLACES, AND EVENTS: