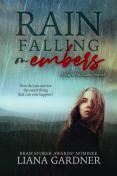 How do you survive the worst thing that can ever happen?

When thirteen-year-old Katie McCabe's dad gets sick and is hospitalized, she's sent to live with her uncle in a strange town. But within days of arriving, her dad unexpectedly dies.

Struggling with her new reality, Katie is lost. She doesn't fit in at her new home and never will.

It only gets worse when Katie starts her freshman year of high school and begins to have run-ins with the son of the man who owns the town—a dangerous man with ties to her family's past.

And then one day, she is attacked from behind. Blindfolded and slung across the back of a horse, Katie is taken up into the hills. Dumped in the middle of nowhere in an oncoming storm, she is left to find her way home. But first she has to survive.