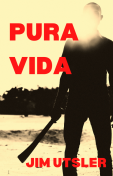 LitPick Review

Pura Vida by Jim Utsler is about Jacob Miller, a hapless detective in Detroit. He had a moderately successful career until he had enough of the bad guys getting away with stuff. He and his partner took justice in their own hands against a drug dealer. But as the investigation heats up, the evidence begins to pile on, and they're both found guilty. Jacob gets off with a reduced sentence for cooperating with the investigation, which also leaves him with the notoriety of being a rat. Even his father, a former detective, hates him for snitching on his partner. It's in prison, however, that Jacob devises a more lucrative, and less violent, scheme. He gets set up for life, while also helping out his sister and cellmate in the same way. He lands in Costa Rica, far away from the politics and police and mafia. He's got it made with his condominium people. Everyone has a story, but no one's talking or asking. But his past soon catches up with him. Jacob is a bumbler of a detective. You get Columbo vibes from the way he handles a mystery. The style of the book is like a Jack Reacher novel, but the characters are very different. Jacob might be hapless (and overweight), but he's smarter than everyone thinks. He's smarter than he thinks, too. The reader is left wondering if he will be smart enough.
Opinion:
I enjoyed reading Pura Vida. Like Jacob Miller, I didn't know what the phrase meant, so I looked it up. It means "Pure Life" or "Simple Life" and is apparently a common phrase in Costa Rica, which is where the book is set. That gives the book an air of authenticity and reality. Jacob's thoughts are very sarcastic and quite witty. His thoughts often drive the narrative, better than narration could. Jacob's thoughts are also where the book is Jack Reacher-esque. He's obviously smarter and more insightful than he comes off to the other characters. The book also gives some insights into our sense of justice and injustice. The drug dealer that his partner shoots is obviously a bad guy and deserves what he gets. Jacob's partner gets the jail time that he deserves, too. But Jacob doesn't get what he deserves. He gets off. We only have sympathy for him because he does some really good stuff later on. But is it justice? It's vigilante justice at best. But Jacob's sense of justice isn't right and true, and he's just as guilty of wrongdoing as anyone else in the book. But we root for him because he exacted strict justice on someone, and then later got revenge against another notorious bad guy. He ends up back in Costa Rica, gets the girl, still has the money, and is still lounging by the pool. It's Pure Life or Simple Life, in a material sense. It's not the Good Life in a moral sense, however.
Explain your content rating:
There is swearing, violence, and sexual content. Not appropriate for children.
KEYWORDS
ACTIVITIES, HOBBIES, PLACES, AND EVENTS: