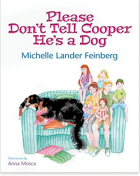 LitPick Review

Cooper is a rescue dog who is unlike other dogs. He does everything like a human besides walking and talking. Cooper has a zeal for travel and adventure. This book is all about how adventurous Cooper explores with his loving family. This book was a funny and engaging read.
Opinion:
I rate this book 4 out of 5 stars for young readers. I liked how Cooper's personality was conveyed throughout the book using the rhyming style of narrative that appeals to young children. The book does a good job at building Cooper's character as one reads along. The illustrations were funny and can create good engagement for young readers. However, the author did not provide textual explanations for the illustrations and left it up to the reader's imagination and interpretation. In my opinion, since the target audience for the book is five to eight year-old children, they may not necessarily understand what is going on in the book without appropriate text that matches the illustration. One can argue that the book enforces children to use their imagination for the illustration that is not backed by text.
Explain your content rating:
This book is suitable for kids and families. There is nothing offensive in this book.
KEYWORDS
CHARACTERISTICS AND EMOTIONS:
ACTIVITIES, HOBBIES, PLACES, AND EVENTS: