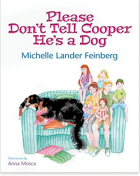 LitPick Review

Please Don't Tell Cooper He's a Dog is a heartwarming and humorous story of a family dog named Cooper, but he does not think he is a dog. No, Cooper is anything but a normal dog. He acts like a human! This book takes readers through a fun-filled life with Cooper. His unique personality shines in everything he does, and that is just the beginning. Readers, get ready to giggle and gasp at Cooper who does not know he is a dog.
Opinion:
Please Don't Tell Cooper He's a Dog is a perfect story for new readers. Not only do the illustrations bring the story to life, but they also span across each page to allow readers to fully experience life with Cooper. Readers will chuckle at the humor in the story, and the simple and quippy rhymes make this book perfect for reading aloud. Overall, this picture book is a great way for new readers to dive into the exciting life of Cooper with life-like illustrations and amusing rhymes.
Explain your content rating:
There is no offensive content.
KEYWORDS
CHARACTERISTICS AND EMOTIONS:
ACTIVITIES, HOBBIES, PLACES, AND EVENTS: