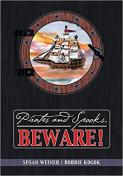 LitPick Review

WATCH THE LIITPICK ANIMATED BOOK REVIEW ON YOUTUBE!

Calling all pirate lovers! Susan Weiner's Pirates and Spooks, Beware! is a fantastic collection of 16 well-illustrated poems. They rhyme, make sense, and contain several poetic literary devices. Many of the poems have a refrain that makes them seem like a fun chant. They are detailed, and every one tells a good story. The special lines of poetry that are reprinted in large fancy fonts along with all of the colorful artwork highlight and help explain the main idea of each poem. The book covers a variety of subjects related to pirates and spooks that elementary and middle school kids will think of as funny or just a little eerie. It's even so well-thought-out that one poem called "13" is actually the thirteenth poem in the book!
Opinion:
I think all of Ms. Weiner's hard work jumps off the pages of her book Pirates and Spooks, Beware! Her love of language really stands out! I can't imagine how much time it must have taken to write these long poems that tell such easy to understand stories. The way the meter and rhyme work together is entertaining. Many of the poems are funny, and even the serious ones aren't all that frightening thanks to the interesting artwork that's included. The book is written for kids ages 8-12, but I think teens would like the playful way it's written too. Teachers could use it in the classroom because it has a great mix of poems about pirates, treasure, mermaids, alligators, and creatures of the dark that appeal to both boys and girls. It's definitely a book that helps kids realize poetry is something they should want to read!
KEYWORDS
CHARACTERISTICS AND EMOTIONS:
ACTIVITIES, HOBBIES, PLACES, AND EVENTS: