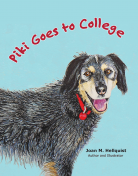 LitPick Review

This book starts with Piki, a young dog who thinks he is in jail. He figures out that it is just an animal shelter and gets adopted by a human named Joan. Joan starts to train Piki and even teaches him special tricks and gives him a special vest. Piki doesn't always want to behave; he wants to run around and have fun with things like the Piki Flop and Roll! Then one day, Piki hears a woman say that he is going to college! He realizes that he has a very special job: being a service dog. He realizes the importance he has and goes through training. Piki is finally able to do his job as a service dog and help "his person".
Opinion:
Overall, I really enjoyed reading this book. I liked that the author started with a fun story about Piki as this grabbed my attention and made me want to read the book. Throughout the story, the author showed the process that service dogs go through before officially becoming a service animal. I think this was a great way to start to introduce information about service dogs while also providing an entertaining story. I also liked that at the end of the story there was more specific information about service dogs. I think this was a great way to introduce kids to service dogs and their responsibilities and also give them some specific information about what to do around them. I highly recommend this book to kids or anyone looking to learn about service dogs!
Explain your content rating:
There was nothing offensive in this book.
KEYWORDS
CHARACTERISTICS AND EMOTIONS:
ACTIVITIES, HOBBIES, PLACES, AND EVENTS: