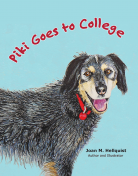 Piki Goes to College
Piki Goes to College is the story of a lovable shelter dog who is trained by Joan to become a Service Dog. Piki (rhymes with sneaky) tells her own story, which is fun, entertaining and educational for children and adults. Her antics during her training are not only described but shown with color illustrations revealing her mischievous and independent personality.
Although Piki herself tells you a lot about Service Dogs, additional sources are included for adults, providing more advanced information about Service Dogs and the Americans with Disabilities Act.