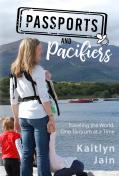 LitPick Review

This book is an autobiography written by author Kaitlyn Jain. Jain writes about her many travels with her family and her tips for traveling with children. From Hawaii to Italy and from pesto to a Krispy Kreme donut, this book is extremely diverse. The author thoroughly describes her adventures all over the world while at the same time informing readers about different cultures and countries. This book highlights the many wonderful aspects of traveling while at the same time telling readers how to be fully prepared while traveling. Passports and Pacifiers is an excellent memoir of Jain's many travels with her family.
Opinion:
Since I am currently stuck at home due to the pandemic, reading this book was an amazing experience for me. Jain's descriptions of her travels were so vivid that I felt as if I was there. I also liked how much of a light mood this book had and how we slowly started to learn more about Jain and her family as we read this story. The writing style of this book was beautiful and very descriptive. My favorite thing about this book was getting to know so much about different cultures and places. I recommend this book to anyone who likes stories about travel and family!
Explain your content rating:
This book has no offensive terminology and is good for any age.
KEYWORDS
CHARACTERISTICS AND EMOTIONS:
ACTIVITIES, HOBBIES, PLACES, AND EVENTS: