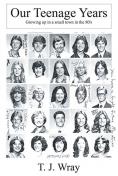 LitPick Review

WATCH THE LITPICK BOOK BRIEF VIDEO!

"…I want to challenge you guys for a third time…Spend your time wisely and search for your Personal Legend."
T.J. Wray offers many snippets of advice such as this in his memoir, Our Teenage Years: Growing up in a small town in the 80's. In this memoir, the reader discovers the teenage moments that made T.J. (the author) the adult he has become. As you bounce between T.J.'s early teen years to the choices and consequences of being 19, you learn how one person can impact another, how doing your best at all times is the most important lesson, and how memories are the greatest way to share laughter!
T.J. Wray grew up in Texas and was a teenager during the 1980s. His early teen years were riddled with harsh lessons learned from being poor and being at the mercy of unloving adults. His mid-teen years included finding a job, a purpose, a life-long best friend, love, and hard decisions about his future. Overall, this memoir shares the best memories of a man who understands the value of individual moments.
Opinion:
This memoir caught my attention immediately. I, too, grew up in a small town, so that connection was already established, but it was more than that. T.J. Wray does not soften any of the reality of his life — he tells it as it happened, including every cruel, sad, or ugly moment. Immediately upon reading the first chapter, I knew I cared about the author and was invested in knowing that things were going to turn around for him (which they do!).
I also really enjoyed the formatting of this memoir. Instead of a linear story, this reminds me of episodic fiction where several moments are placed in an order that makes sense to the overall theme in each chapter. If T.J. is discussing a life-altering decision he made at the age of 15, he may bounce forward to describe how that impacted a decision he had at 17, and then go backwards to the age of 13 to give background into why he made the decision in the first place. This pacing is never confusing and gives a flow to the memoir that is easy to follow.
I would recommend this memoir to those ages 15 and up (due to some mature content) who enjoy or are interested in reading biographical non-fiction. I would also recommend to boys within that age range who might struggle with finding a connection to a main character.
Explain your content rating:
This memoir discusses teen sex and teen pregnancy. It also discusses child abuse with details.
KEYWORDS
CHARACTERISTICS AND EMOTIONS: