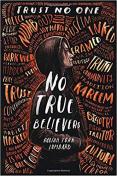 LitPick Review

In No True Believers, the reader follows a teenage Muslim girl whose name is Salma Bakkioui. Salma's best friend, Mariam who has been her neighbor and best friend her whole life is moving away because Mariam's father's patients don't want a Muslim chiropractor anymore. Everything goes downhill from there for Salma. With her boyfriend Amir comforting her, many kids at school are being very rude to her because she is a Muslim. When Salma's new neighbors move into Mariam's old house, it seems like they are a normal, every-day family, but Salma is getting suspicious and discovers many secrets. She must tell the police and her family before it is too late.
Opinion:
No True Believers was a captivating and exhilarating book because it makes a reader want to figure out more about the mystery in the book. I never have read a book with a Muslim main character, so I learned a little about Muslim culture since there were references to some traditions that Muslims have. I absolutely loved this book because of the mystery and diversity presented in this book, and I will recommend it to everyone that I know because I think that it is a significant book and should be read by everyone at some time in their lives. I hope that the author comes out with more books like this one because I would love to read more from her. Overall, I would rate this book 5 of 5 stars and recommend it to ages 13 and up.
Explain your content rating:
Some Language and a little violence.
KEYWORDS
CHARACTERISTICS AND EMOTIONS:
ACTIVITIES, HOBBIES, PLACES, AND EVENTS: