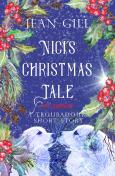 Age Range -
Mature Young Adult
LitPick Review

Nici's Christmas Tale: 1157 Aquitaine, A Troubadour's Short Story is written by Jean Gill. Nici's Christmas Tale is a short story as told by Nici, a shepherd dog, telling his story to his puppies on Christmas Eve. Nici shares what it was and is like to work for humans who are good and bad. Nici also shares with his puppies what training to be a shepherd dog is all about, how to be a good shepherd, and to listen to all that surrounds you while on the job. There are a lot of events in the life of a shepherd dog from helping out in the fields to helping corral sheep and lambs in time of shearing, and always keeping them safe from danger. Nici learns his lessons and now is passing them on to his puppies. Nici learns that being a shepherd dog is a job of caring for all.
Opinion:
Nici's Christmas Tale: 1157 Aquitaine, A Troubadour's Short Story is an absolutely perfect story to share with children at Christmas time for it teaches that we all need to help others, learn from our mistakes, and to look out for each other. There are a few characters in this short chapter story that one needs to be wary of, but can learn from one way or another. These characters are Malabric, Jehan-Pastor, Gaudis, and the Lady Costanza who are the humans that fit in with Nici's life and work life. I feel these characters are to be wary of as a lesson to be careful of those around you. The plot of the story moves at a moderate pace since the setting of the story is the farm and sheep farm, which is a place that has periods of passive and active times. The overall theme of this short story could be believing in others good or bad. This is a tale of learning to work together and even the survival of the fittest. This being a short story and being told at Christmas, it is a sharing story for me. It reminded me of a story at Christmas when the animals could talk to each other about what is going on in situations, as in a children's Bible story. It is a story of trust and learning to trust both animals and humans. Jean Gill created Nici as if Nici was human and all the characters as if they were doing their jobs correctly.
Explain your content rating:
This is a Christmas short story that teaches a few good lessons.
KEYWORDS
ACTIVITIES, HOBBIES, PLACES, AND EVENTS: