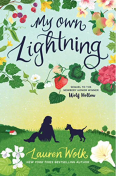 Genre -
Historical Fiction
LitPick Review

My Own Lightning is a youth and young adult novel written by Lauren Wolk, which is a sequel to her book Wolf Hollow. This is the story of a girl by the name of Annabelle. The story takes place in a small township in Western Pennsylvania in 1944. One day in June when Annabelle and her teacher were cleaning the one room schoolhouse on a hot, sticky day, a stranger from a nearby town came looking for his dog. Annabelle also noticed that a fellow student was lurking outside as well. Annabelle and the teacher decided to call it a day when it looked like a storm was brewing and Annabelle started for home. While on her way home, Annabelle is struck by lightning, and her story begins. She finds out she has a special talent of sorts that seems to help her understand everything that is going on around her, as well as her family and friends that will involve the past with the present.
Opinion:
Lauren Wolk has written a story of friendship, helping others, and learning more about oneself. Personally, I was raised in Western Pennsylvania in an area very close to where this story takes place. Lauren Wolk wrote a story that took me home in a way for I recognized several of the towns and cities in the story even if it was a few decades before I was born. My Own Lightning is a story that allows the reader to get a sense of how one sees oneself. It also shows how family and friends will see each other differently. It shows that appearances can be deceiving as some of the characters will show. I also like the language (vocabulary) as this area has some unusual vernacular as in "reddingup the house." I can remember hearing and even saying this phrase as a child and my mother saying it. This is a book that will have you reading to the end for it is an easy read and moves fast.
Explain your content rating:
This is book that took me home.
KEYWORDS
CHARACTERISTICS AND EMOTIONS:
ACTIVITIES, HOBBIES, PLACES, AND EVENTS: