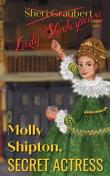 Genre -
Historical Fiction
LitPick Review

Molly Shipton had always lived a happy life with her family in their tiny village of Bidford-upon-Avon during the late 1590's. But when The Plague attacks their village, killing both of her parents and leaving most of the villagers dead, Molly knows she must run away with her little sister, Juliet, to survive. Her brother, Ben Shipton, has gone missing and is assumed to be dead although Molly hopes deep in her heart that he is still alive. Molly and Juliet disguise themselves as boys and sing and play the lute on the street to earn money. After hiding out in a secret area in the Duke's house, they get found out and are forced to stand in front of the Duke as trespassers. To their surprise, the Duke is very kind and offers them housing and food (and forgives their punishment for trespassing) if they agree to play the lute and sing for his guests at their dinner. The Duke gives them a once-in-a-lifetime offer: they can stay at his castle and work for him as musicians and have a cushy time for the rest of their life. Molly cannot get her dream of going to London and performing out of her head, so when a mysterious Lady names Lady Southwark offers to take them to London, Molly quickly accepts. But will London be everything Molly is hoping for... and will she finally be able to live out her dreams of acting?
Opinion:
Overall, I enjoyed reading this book. I enjoyed the storyline of two sisters who had nothing but each other and their talent at music but survived because of their will to start a life for themselves. I really liked how we got to see Molly grow as the book progressed and how she remained adventurous and brave throughout the story. After the death of her parents, we could see how Molly begins to grow more responsible and protective of her sister while still trying to chase her dreams. The storyline itself was also very suspenseful and filled with adventure, which made me unable to put the book down! I also liked how the author vividly described the scenery in the book. For example, when Molly and Juliet first got to London, I felt like I was there with them due to how the author described the busy streets filled with people and traffic. Because this book was based in the late 1590's, it was cool to see the author's descriptions of London back in that period of time. For example, the traffic being with horses rather than cars, people regularly attending Shakespeare's plays with him there, and the plague. This book also showed how despite when things get tough, not giving up will eventually lead you to success. Lastly, I really liked how the pacing of this story was quick as no parts of the book felt dragged out or boring. I highly recommend this book to readers who are interested in reading a book about two brave sisters with big dreams!
Explain your content rating:
This book is great for all ages.
KEYWORDS
CHARACTERISTICS AND EMOTIONS:
ACTIVITIES, HOBBIES, PLACES, AND EVENTS: