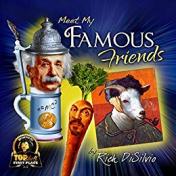 LitPick Review

WATCH THE LITPICK BOOK BRIEF VIDEO ON YOUTUBE!

Meet My Famous Friends is a humorous portrayal of many well-known artists, writers, and geniuses of all kinds. It is an entertaining read for the whole family. While younger children will enjoy looking at the comical artwork, teenagers and adults will appreciate the plays on words and maybe even learn a little bit about a few of these historic figures.
Opinion:
I really enjoyed the twists on artists' names to match their line of work (or not so much). Making learning about some famous people a little more fun, it has definitely found its place on my shelf. Its appeal to the whole family makes its simple wording fun as well as educational. I would recommend this book to any person of any age.
Explain your content rating:
Meet My Famous Friends has no offensive content.
KEYWORDS
ACTIVITIES, HOBBIES, PLACES, AND EVENTS: