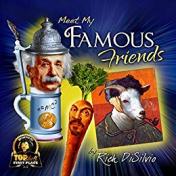 Inspiring kids with humor.

Meet My Famous Friends is a whimsical picture book that honors greatness and celebrates the imagination. You'll meet Vincent van Goat, Susan Bee Anthony, Queen Elizardbreath, Albert Eine-Stein, Carrotvaggio and many others.

Award-winning author/Illustrator Rich DiSilvio presents a broad array of geniuses and heroes in a humorous and compelling fashion by creating parodies on their names and appearances, whereby making us see very familiar people in very different but memorable ways.

While grade schoolers will get a kick out of the comical artwork, teens and even adults will appreciate the witty play on words, inventive creations, and perhaps glean a thing or two about a few of these iconic people that have had a great influence on society in one form or another. Their lives and contributions have uplifted humanity in various ways, thus being great role models for young and old alike.

As such, Meet My Famous Friends is a fun way to stimulate the imagination and foster a fondness for greatness.
Book Details
Genre:
Biography
Educational
Fantasy
For Reluctant Readers
Historical Nonfiction