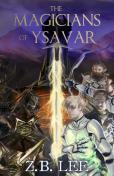 LitPick Review

Age at time of review - 18
Reviewer's Location -
Cabuyao City,
Laguna,
Philippines
View 4332's profile
After failing his Guardian training, Johan feels as if he has lost everything he'd ever hoped and dreamed for.

That is, until a brownie halfling named Felix appears at his door under orders of Pius to take him and train him. When Johan comes, he meets Pius, the wizard and Arlo, a human like Johan.

Pius tells him that he is Chosen and that he would be tasked to retrieve Blazer, a sword that holds unspeakable power, from the hands of dangerous goblins.

This could be another chance for him to take back what he'd lost, but would he suceed? Or would he fall just as before?
Opinion:
I didn't like this book as much as I heard others liking it.
First of all, I didn't connect at all with Johan, and it didn't help that his struggles were told instead of shown. He's quite stubborn, which would not be a problem in itself, but he sways from different character traits that confused me so that I couldn't get a grasp on what he really was. He didn't seem to grow throughout the story either.
The setting was quite confusing for me, and the lore is not very well planned out.The magic system might have some sort of potential, but I didn't see much of it in the story apart from the fact that it could shoot bolts. I also felt that the presence of the Angel was unneeded.
I'm not looking forward to a sequel of this book, to be honest.
The author could use more showing than telling, and studying the concept of subtext and character development. There's still a lot more they can improve with this story.
KEYWORDS
CHARACTERISTICS AND EMOTIONS: