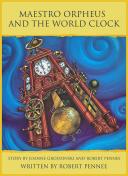 LitPick Review

Fred hates visiting his grandfather's house. Sure, he loves his grandfather, but there is nothing to do at his grandfather's place. His grandfather is a retired clock-maker, and his house is full of old clocks. Fred can't fall asleep and is staying awake, counting down the time on the clock when all the clocks stop ticking! Fred decides to go find his grandfather and ask him what is going on with the clocks, but instead, he meets a man named Maestro Orpheus. He quickly finds out that time has stopped, and it is up to Fred to fix it! This audiobook is a wonderful story full of music, magic, and adventure!
Opinion:
Overall, I really enjoyed listening to this audiobook. The first thing I enjoyed was how there were so many musical elements to the story, and I could hear classical music in the background of the audiobook as well! This made me feel as if I was really there in the story and overall made the audio book sound magical. Another thing I really liked was the concept of the story. While the idea of time-stopping is one I have read before, the author's story was very creative and unique with the addition of a "world clock" run by Maestro Orpheus that must keep running at all times. The pacing of the story was also perfect as it was past-faced, but the author did a great job of making that everything in the story clear and understandable. Lastly, I liked how Fred became more understanding and appreciative of clocks throughout the story. In the beginning, he found them boring, but by the end, he began to understand just how important they are! Overall, I highly recommend this audio-book for any young reader looking for a magical listen!
Explain your content rating:
This book is perfect for children.
KEYWORDS
CHARACTERISTICS AND EMOTIONS: