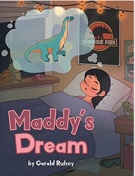 LitPick Review

Maddy's Dream is the story of the adventures that a young girl named Maddy and her friend Grace have in Maddy's dream. Maddy and Grace decide that since the weather is nice, they would like to have a picnic in the jungle. They pack up some delicious snacks and enjoy them in the jungle, listening to the sounds of nature around them, when all of a sudden a T. Rex comes up and eats them! Lucky for them, the T. Rex quickly throws them back up and leaves them all alone. Maddy and Grace spot another dinosaur peaking around a bush and worry that they will be eaten again! But instead, the baby dinosaur introduces himself as a brontosaurus and offers to help them get back home. Maddy, Grace, and the brontosaurus start the journey back home, stopping at the pond to wash off and the store to buy some fresh clothes. Everyone they meet along the way is being very kind and helps them with their journey, but will they be able to make it home before dark?
Opinion:
I really enjoyed reading this story. The plot of the story was very creative and because the story occurred in Maddy's dream, the author was able to add in some especially creative elements such as having dinosaurs in the jungle. This made the story very exciting and suspenseful. The characters in the story were very relatable, especially Maddy. She stayed strong even when scary things occurred to her and kept her happy personality throughout the story. I also liked how the author didn't paint all dinosaurs as "bad" in this story, but instead showed how there is good and evil in everything through the evil T.Rex and helpful brontosaurus. The story flowed together very well and is written with mostly simple vocabulary, making it an ideal book for young readers to start reading by themselves. This book contains colorful illustrations, and they really helped to showcase the settings of what was occurring as well as the emotions Maddy and Grace were feeling in the scenes! Maddy's Dream teaches readers about how there will always be a positive even if something bad happens, and the importance of helping each other. This book is an awesome read for young readers looking for a book full of suspense and adventure!
Explain your content rating:
This book is appropriate for children.
KEYWORDS
CHARACTERISTICS AND EMOTIONS: