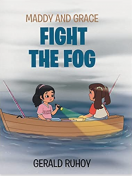 LitPick Review

Maddy and Grace always look forward to spending a week in Maddy's grandma Mei's house in summer as they've been doing for the past three years. Every year they get to go fishing, swimming, and have fun on the beach, and this year is no different. Maddy and Grace decide to go on a fishing trip and paddle out to the middle of the water being careful not to wander too far from shore for fear that they will get lost. After getting caught up with fishing and staying out in the water a little too long, they get engulfed in a thick layer of fog! They try to paddle back to shore but can't see where they are going and end up even further away from their home. Just when things they thought things couldn't get worse, they almost get eaten by a shark and run over by a ship! Will they be able to escape the dangers of the water and make their way back home?
Opinion:
I really enjoyed reading this book. While the main plot of this book is a familiar one (getting lost while on an adventure) the author did a great job of making it more exciting by adding elements such as a shark out in the sea and another ship. I also felt that the story was well-written and progressed at a speed that felt exciting the entire time I was reading it without any pauses in the story's suspense. The author also set up the scene very well for the readers with the descriptions of the beach and all the fun things at Maddy's grandma's house, which made it easy to relate to Maddy and Grace's excitement about their adventure throughout the book. The illustrations also added to this and helped showcase the different settings such as the water. This book also showed Maddy and Grace's resilience as they never gave up even when things started to get tough. Overall, this is an awesome book for young readers to read by themselves or with the help of a grownup that teaches about the importance of being prepared!
Explain your content rating:
There is nothing offensive or inapproperiate in this book.
KEYWORDS
CHARACTERISTICS AND EMOTIONS:
ACTIVITIES, HOBBIES, PLACES, AND EVENTS: