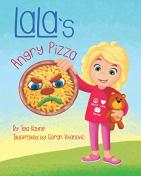 LitPick Review

WATCH THE ANIMATED LITPICK REVIEW ON YOUTUBE!

LaLa had a bad day. A VERY bad day. She comes home, prepared to take her anger out on everyone around her. Instead, she finds that she is able to take her anger out on something else, playdough. What will she make, and what will it teach her?
Opinion:
LaLa's Angry Pizza is a wonderful book about our need as humans to take (or bake) our anger out on something. Instead of hurting others, LaLa's mother patiently teaches LaLa how to calm down. The illustrations by Goran Vitanovic compliment the story and help readers connect with LaLa. Armed with a recipe for homemade playdough, both adults and children can learn how to battle the temptation to let bad feelings ruin the day, just like LaLa. In this wonderful picture book, Tela Kayne imparts a key bit of knowledge that is essential for all of us.
Explain your content rating:
There is nothing offensive in this book.
KEYWORDS
CHARACTERISTICS AND EMOTIONS: