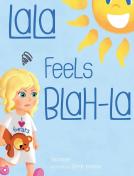 Student Review
WATCH THIS LITPICK BOOK BRIEF ON YOUTUBE!

In this creative children's book, LaLa wakes up with a different feeling than she's used to – blah-la! She stomps around and feels like nothing is quite right, even though it's a nice day and she should be happy. Her mom tries to help her to feel better, but it doesn't seem to work. LaLa needs to find a way to snap out of this mood!
Opinion:
This book would be recommended for kids ages 5 through 8 years old. Younger kids sometimes need to know that it's okay to feel different emotions, but it's not always okay to act on them. LaLa does a bit of both but comes to understand she needs to get back to her normal, happy self! Because of these things, I think young kids would relate to it. Also, I enjoyed the illustrations, especially as they filled entire pages - this would also draw in younger kids. A great book all around!
KEYWORDS
CHARACTERISTICS AND EMOTIONS: