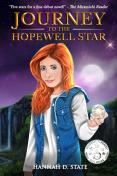 LitPick Review

Sam really misses her parents. They are usually away on top-secret missions, leaving her at home with her grandpa. Sam loves staying with her grandpa on his farm, but it's a little boring... until the day before her birthday when she finds a creature in their barn, delivering a birthday present from her parents. The creature turns out to be Boj, a friendly Krygian from the planet Kryg. Upon traveling to Kryg, Sam learns that she is the new queen of Kryg and is tasked with finding the Hopewell Star, the only resource strong enough to save the dwindling lives of both Kryg and the Earth! Not only that, but Sam will also be moving out of the farm and going to public school for the first time! Can she save the earth (and survive public school!)?
Opinion:
I loved that this book partly takes place on another planet! It was nice that the author clearly explained the planet, so I wasn't confused about the setting. This book also talked about the environment and made a meaningful point about preserving the earth. I also found that this book was quite relatable, and I could understand a lot of the struggles Sam felt, both about school and Kryg. The only thing I didn't like about this book was that the ending didn't feel completely resolved. Overall, I do recommend this book to anyone who likes Science Fiction or the environment.
Explain your content rating:
This book has no offensive language and is well suited for children.
KEYWORDS
ACTIVITIES, HOBBIES, PLACES, AND EVENTS: