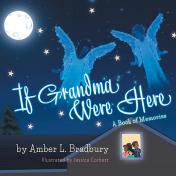 LitPick Review

What is your favorite way to spend time with your grandma? Would you rather snuggle up with her and read a great book together or go on a big exciting adventure? Would you rather visit a museum or the beach with your grandma? What if you couldn't spend time with her at all? If Grandma Were Here, written by Amber L. Bradbury and illustrated by Jessica Corbett, explores all the fun things kids can do with their grandmothers but also teaches young children that even if they can't physically be with their grandma, she will always be with them in their hearts.
Opinion:
If Grandma Were Here is a heartwarming picture book that explores the idea of missing one's grandma in a way that is easy for young children to comprehend. The cute, colorful pictures, illustrated by Jessica Corbett, really help the young reader connect the words on the page to their own lives. At first, I found the fact that the illustrations in this book featured two different grandmothers interacting with the same children slightly confusing. But, it is a nice recognition that grandmas come in many different ages and ethnicities, helping break down the stereotype that all grandmas look and act a certain way. This book first explores all the different activities children can do with their grandma and then ties everything together in the end with the deeper message that no matter how far apart the reader and their grandma might be, their grandma will always be with them, right inside their heart. This would be a great jumping off point for conversations between a parent and child about how to cope with missing their grandma. Based on the depictions of angels of the two grandmas on the front cover and on a page at the end of the book, it seems that this book is meant to address missing a grandma who has passed away. However, this book is extremely relatable to a much wider audience given our current pandemic circumstances. In a time when many children are unable to visit their grandparents to avoid making them sick, this book is a reminder that they aren't as separated as it might seem. I would recommend this book to anyone ages 3-6, especially those missing their grandma.
Explain your content rating:
This book contains no mature or religious content.
KEYWORDS
CHARACTERISTICS AND EMOTIONS: