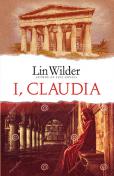 Genre -
Historical Fiction
LitPick Review

I, Claudia is an insightful novel of the ancient world, the story of Claudia Procula, wife of Lucius Pontius Pilate. The narrative begins with a glimpse of Claudia's childhood. The suspense rises as she is about to meet Lucius, her betrothed. As Claudia adjusts to her new role and the politics of the area become impassioned, she wrestles with life, as her husband, Lucius Pontius Pilate, is forced to make difficult decisions.
Author Lin Wilder engages readers to join Claudia on an insightful and emotional journey in her novel, I, Claudia, a historical adaption from an almost silent perspective of the events of the ancient days of Jesus's crucifixion. How does Claudia feel about her husband, his decisions, and her world in general? Read, I, Claudia, to embrace the unique experience of being the wife to one of the most monumentally conflicted men in history.
Opinion:
I love I, Claudia! This novel is a perfect blend of decription, emotion, expression, and historical connection. Reading from the shifting perspectives of Claudia and Lucius is instantly engaging. The author creates a deep connection between the characters and her readers, while painting the backdrop with elegantly crafted prose that brings the story to life.
I read this aloud to my children, who are ages 11 to 18, and they did not appreciate my taking breaks between readings. It is definitely a story that is difficult to put down! I've never read anything by Lin Wilder before, but I am excited to be a new fan of this author.
Explain your content rating:
I don't know that I would suggest this book for non-mature readers, only due to the influence of the subject matter. Because it is historical fiction, it might lead younger readers to believe a suggested narrative that by definition is fiction.
KEYWORDS
CHARACTERISTICS AND EMOTIONS:
ACTIVITIES, HOBBIES, PLACES, AND EVENTS: