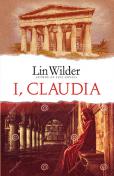 Genre -
Historical Fiction
LitPick Review

As a young girl, Claudia is brilliant, consuming the works of Plato and Aristotle while other children are still learning their letters. She is the daughter of the last Delphi, an oracle from Greek mythology. Her betrothed, Lucius, is a fierce yet forgiving soldier of the Roman army, well connected enough to secure a leadership role over the Jews in Jerusalem.
I, Claudia begins as a love story between two seemingly opposite souls living in the Roman Empire, but as their happiness nears completion, the most famous biblical event begins to play out under Lucius's jurisdiction. Lucius, historically known as Pontius Pilate, suffers great lengths to serve a people he doesn't understand—the Jews—even as their priests attempt to manipulate him at every turn. With very different perspectives, both Claudia and Lucius lend their eyes and ears to the reader to recount the tale of Jesus's beginning as an acclaimed prophet to his regrettable end under the reluctance and enormous fear of Lucius. Author Lin Wilder tells a very different side of the story than the well-known Easter tale, providing a fictional narrative that deepens the truth of anti-villain Pontius Pilate.
Opinion:
Here and there, Wilder pens a quotable phrase or line that adds depth and authority to her piece. Clearly a heavy weight is on her main characters, both of whom are introspective and clever. The narrative sometimes lacks the "show, don't tell" principle as the author seems hurried to explain what takes place rather than illustrate it in so many words. Those who enjoy the classics will find their interests woven into this tale of spouses, with the works of Plato and the legends of the Delphi being just a few among a treasure trove of ancient literature and mythology. This novel is arguably a tragedy, an undercurrent of sorrow and fear throughout the piece. Wilder uses very short chapters, most ending with a dramatic attempt at suspense. This helps create the mood and engross the reader in the story, but it can become too much rather quickly since the chapters are so short.
I recommend this book for readers who are 16 or older for its heavy themes, complex classical references, and mature relationships. Despite having an occasional pacing issue—the reader may feel rushed through years and yet dragged during certain moments—I award this book five stars for its unique style, revolutionary perspective, and strong characterization. Wilder successfully accomplishes the feat of making the biblical figure Pontius Pilate a relatable man who struggles along in his decisions just as the reader struggles to understand I, Claudia's professions of faith, duty, love, and sacrifice.
Explain your content rating:
This is the retelling of a biblical story through a different perspective. It also has some mature content regarding mentions of the main characters' marriage (maybe PG-13 level).
KEYWORDS
CHARACTERISTICS AND EMOTIONS:
ACTIVITIES, HOBBIES, PLACES, AND EVENTS: