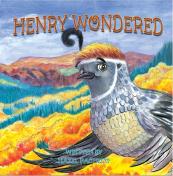 LitPick Review

Henry is a thoughtful, introspective quail who wonders A LOT. Now he wonders how he can impress a certain female quail named Gloria. Henry's wondering is suddenly interrupted by a warning sound announcing the arrival of an unexpected "strutting stranger," Federico. Federico—who rolls his r's—dazzles the covey with a wild tale of daring-do and proceeds to demonstrate his self-proclaimed "talented" "flamingo" dancing. Henry knows the dance is called "flamenco" not "flamingo," for heaven's sake, but nobody else seems to notice Federico's blunder. Instead, the whole covey is very impressed with Federico's dancing, and what's worse, afterwards, Federico smiles at Gloria and…SHE SMILES BACK!
Opinion:
A wonderful tale of discovery, Hazel Pacheco Rosenthal's Henry Wondered, has everything necessary for a children's picture book classic: captivating and believable characterization; subtle, effective use of literary device (including a child favorite, onomatopoeia!); a highly interesting plot with lasting life lessons; and vibrant watercolor illustrations that capture the eye and imagination while perfectly complimenting the text.
Humor is seamlessly woven into the delightful tale through wordplay (a treat for the adult reading aloud) and Kim Sponaugle's creative illustration. My favorite example of wordplay is when Henry's "bestie," good-natured Ernesto, approaches Henry while Henry is trying out a different 'crest style' that's not working out so well, and says, "Bad plume day?" Also, because I read the book aloud, the rolled r's when 'Fede-r-r-r-ri-co' speaks were especially fun. Two examples of humor in Sponaugle's illustration are: Henry's plume is shaped in an obvious question mark (he wonders) and Federico's dramatic pose at the end of his flamenco dance—it cracked me up.
Rosenthal also masterfully utilizes repetition of the title phrase, "Henry wondered" throughout, with a poignant deviation upon Henry's realization that he cannot be anything other than himself: "Henry didn't have to wonder if trying to look sophisticated was a bad idea—it was!" Rosenthal's subtle infusion of education for the young reader focuses on vocabulary-building, life lessons, and ornithology (birdlife!). As a bonus, she includes a glossary at the end of the book, so the young reader (and adult reader) has the benefit of a direct reference along with the context clues coupled with brilliant illustration clues found within the story.
Young readers will love identifying the shape of a heart in the wild sweet pea vines in the scene with Henry and Gloria, the "horn-playing insects" in the moonlight-gilded trees above the "fabulous flamenco dance party," and the shooting star in the beautiful night sky at the end of the book.
Henry Wondered is the first in a promising series entitled, Henry and Friends. I, for one, am looking forward to Book 2!
Explain your content rating:
This book is uplifting and spot-on for the intended audience of 5-8 year-olds.
KEYWORDS
CHARACTERISTICS AND EMOTIONS: