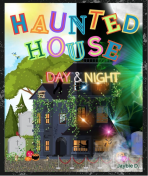 LitPick Review

Haunted House: Day and Night by Jaybie D. is a rhyming children's picture book that features the story of Mandy as she reluctantly accompanies her family on a trip to a haunted house. During the day, she finds herself in a behind-the-scenes tour of the prop-stages where she observes how haunted attractions work. At night, she gets to experience the actual stunning show, which is the fruit of the labor put in by the people working behind it. By the time it ends, Mandy discovers that her feelings about the trip are no longer the same.
Opinion:
The author has done a good job throughout the short, fast-paced story. She begins it with the lively description of Mandy's fears as she tries to fall asleep; it is something that many children can relate to. If a young reader can relate to the protagonist, it is quite likely that the story would keep them intrigued. Besides that, the idea of including the daytime behind-the-scenes part also deserves to be praised. It can help the children to overcome their fears by letting them know that certain things cease to be scary if they explore it with people they trust. It can also allow them to appreciate the people who work hard to keep their minds refreshed. In addition, the way Mandy's attitude toward the trip changes over time can encourage children to challenge their comfort zones and try out new things.
A few other remarkable aspects of the book must be mentioned. One of the things that makes the work standout is the outburst of colors that greets the readers in almost all the pages. Although it cannot be denied that the illustrations in some of the pages could use a bit more effort, the vibrance is certainly capable of keeping young eyes glued to the book. Also, the way the lines rhyme is likely to make the book amusing to the readers. Moreover, the text in some of the pages is put in interesting patterns, which is once again a smart technique of captivating the young readers. The picture book would appeal the most to readers aged 4-6.
KEYWORDS
CHARACTERISTICS AND EMOTIONS:
ACTIVITIES, HOBBIES, PLACES, AND EVENTS: