Haunted House Day & Night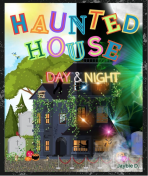 Haunted House Day & Night
Embark on an enchanting journey with Mandy as she bravely confronts her fear of the dark during a thrilling family trip to a haunted house! In this captivating children's picture book, readers join Mandy on an exclusive daytime behind-the-scenes tour, discovering the intricate inner workings of the haunting spectacle. Marvel at the meticulously placed, spine-chilling props that bring the eerie atmosphere to life. Peek behind the curtains to unveil the fascinating interplay of costumes, make-up, lighting, security, and electrical systems that add a touch of magic to the haunted house.

As night descends, a whole new level of enchantment unfolds. Mandy and her family immerse themselves in an extraordinary evening experience where the previously observed prop stages burst into vivid life. Prepare to be mesmerized by a symphony of special effects that will enchant your senses, casting an otherworldly glow over the surroundings. Vibrant colors dance in harmony with haunting melodies, amplifying the eerie atmosphere to its fullest.

Throughout the pages of this book, Mandy's journey takes her into never-before-seen rooms that will captivate and ignite the reader's imagination. Delve deeper into the secret chambers and hidden corners of the haunted house, where thrilling surprises await at every turn! Will Mandy summon the courage to conquer her fear of the dark? Join her on this unforgettable tale of bravery, imagination, and self-discovery as she unravels the mysteries of the haunted house and discovers the transformative power of overcoming her fears.
Book Details
Genre:
Fantasy
For Reluctant Readers
Horror
Picture book