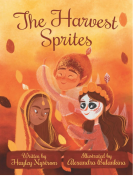 LitPick Review

Some children may be sad to see the warm and carefree days of summer give way to fall, but not the Harvest Sprites - fall is their time to shine! From playing in leaves, to curling up with a good book, to carving pumpkins, the sprites celebrate all the joys of fall. The Harvest Sprites is the fourth picture book in the Magic of the Seasons series, written by Hayley Nystrom and illustrated by Alexandra Bulankina. The cute characters keep very busy making the best of fall and remind young children to do the same.
Opinion:
The Harvest Sprites by Hayley Nystrom is a fun rhyming book that is great for beginning readers or read-aloud. The author does a great job of making this book informational without compromising the storyline - it teaches young children about the environmental changes and cultural celebrations that make fall so unique through the lives of the Harvest Sprites. I really like how the book includes Harvest Sprites of all ages and races enjoying the season. The book references fall holidays such as Halloween, Dia De Los Muertos, and Diwali but leaves room for parents and children to further investigate whatever aspects of fall most interest them. Another aspect of The Harvest Sprites that makes it so unique is it's prominent visual aspect; Alexandra Bulankina fills the pages with bright kid-friendly illustrations that enhance the delightful story. I would highly recommend this colorful book for children ages 2-6.
Explain your content rating:
This book contains no mature or offensive content.
KEYWORDS
CHARACTERISTICS AND EMOTIONS:
ACTIVITIES, HOBBIES, PLACES, AND EVENTS: