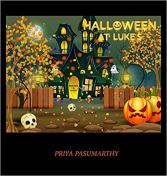 LitPick Review

WATCH THE LITPICK BOOK BRIEF VIDEO!

Lyda has a dream about gathering with friends at her house. In her dream, cats, mice, and foxes meet up. They eat lots of delicious food before trick-or-treating. Then they go trick-or-treating together and have a joyous and fun-filled adventure on Halloween night. What will happen if her dream comes true?
Opinion:
Halloween at Luke's is a short book for kids who are just learning how to read. It is full of friends to meet and an adventure to have. It is a very descriptive book to read with your parents. A question that I had was when all of the friends meet up, why don't the foxes eat the cat, mice, and ducks? But that's the fun of a made-up story. The theme of Halloween at Luke's is that being together with others brings happiness. I could see this throughout the book because when Tom and Lyda had their animal friends over, they all had fun. When you are with friends, you have more fun than when you are alone. I would recommend this book for 5-7-year-olds because of the simple vocabulary and fun story.
Explain your content rating:
KEYWORDS
CHARACTERISTICS AND EMOTIONS:
ACTIVITIES, HOBBIES, PLACES, AND EVENTS: