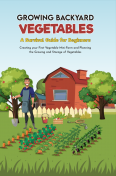 LitPick Review

Growing Backyard Vegetables is the perfect guide for anyone who is looking to start their own vegetable garden. The book first starts off with the many reasons a garden can be beneficial to your physical and mental health, as well as other benefits that gardening can provide to you. Next, it tells you about the importance of planning out your garden before you start and takes you through the way you can plan out your own. It then tells you about the criteria you must have in order to look for a good location for your garden, such as ready access to water and high-quality soil. The rest of the book shows you how to actually set up your garden and various things to watch out for, such as what type of bugs can be helpful and which can be harmful to your garden. With the help of this book, anyone can start their very own beautiful garden!
Opinion:
As a gardener myself, I really enjoyed reading this guide. I found that many of the tips about starting your garden were ones that I used that worked effectively while starting my garden, but there were many more tips within the first few chapters that I did not know. I wish I had known these before starting my garden, as I'm sure I would have had a lot more initial success with the help of the tips in this book, such as how to find a good spot to start your garden! I really liked the writing style of the author in this book, as it felt like I was chatting with the author, and it was very entertaining despite being a nonfictional guide. Also, the table of contents makes it easy for you to look through the different chapter titles and find which chapters would be most helpful to you. I think that this is a great book for those who are looking for a guide to start their own garden or if someone is interested in learning what the process of starting your own garden takes. Lastly, I really liked how the author included many ideas for what you can do with the produce you harvest in the last bit of the book! Even if you have already started a backyard garden of your own, this is an excellent book to continue to learn tips and expand your knowledge about gardening.
Explain your content rating:
There is nothing offensive in this book.
KEYWORDS
ACTIVITIES, HOBBIES, PLACES, AND EVENTS: